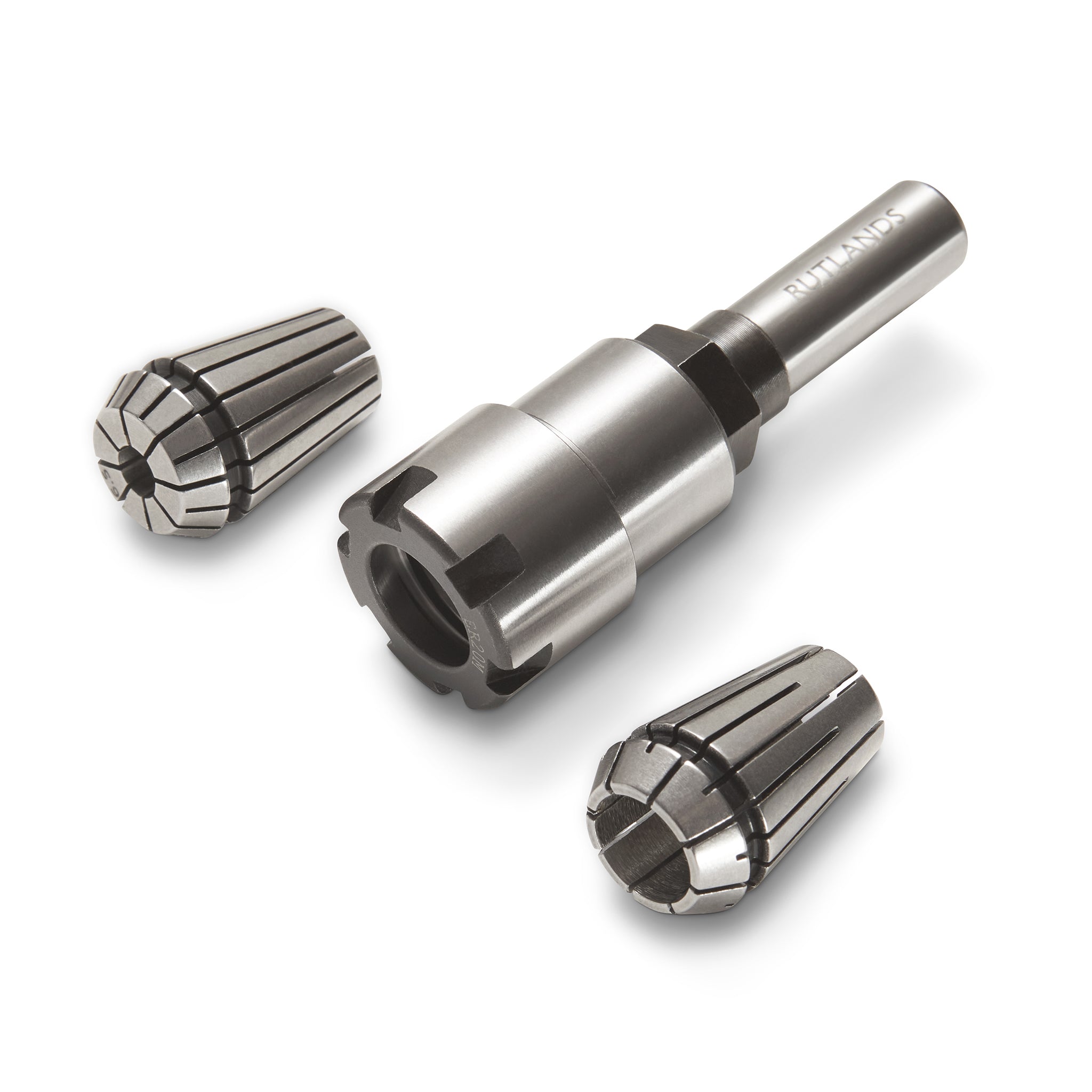 <

Router Collet Extensions
NEW
Collet Extension ER - 1/2" to 1/4" & 1/2"
Regular price
Sale price
$39.00
Unit price
per
In Stock
ready for shipping
Shipping details shown at checkout
This precision machined extension provides 50mm of additional height, computer balanced to minimize vibration and ensure perfect concentricity. The multi-slit ER20 collets securely grip over a 1mm range, allowing 6mm, 1/4", 12mm and 1/2" shank router bits to be used.
Shop with confidence with our 3 Year Warranty
Rated excellent by Trustpilot based on 27,077 reviews
Over 2.5 million Rutlands® premium woodworking tools sold worldwide
Collet Extension ER - 1/2" to 1/4" & 1/2"
Regular price
Sale price
$39.00
Unit price
per
3 Year Warranty
Multi slitted collet fully grips around the router bit shank for safe, secure routing
Engineered from precision ground steel with unrivalled accuracy less than 0.01mm
Computer balanced to minimize vibrations ensuring the router bit runs perfectly true
Transform router tables, bases and jigs, instantly adding 50mm of height to any router bit
1/2" shank extension for use with 1/4" & 1/2" shank bits
A router collet extension is perfect to use when an increased height of router bits is needed on router tables, routing jigs or router bases. This extension gives 50mm of additional height and allows you to easily change router bits above your router table. Simply insert the extension into your 1/2" router, then insert the router bit into the 1/4" or 1/2" ER20 collet and secure it by tightening the collet nut using the supplied spanner.

The extension is supplied with standard 1/4" & 1/2" multi slit ER20 engineering collets which fully grip around the router bit shank for safer routing with less vibration. The collet is made from heat treated precision ground spring steel which gives a runout accuracy of less than 0.01mm. The 1/4" collet has been specifically designed to grip over a 1mm range from 6.5mm down to 5.5mm meaning both 1/4" imperial and 6mm metric shank router bits can be used in the extension. The 1/2" collet has been designed in the same way to grip over a range from 13mm down to 12mm meaning both 1/2" imperial and 12mm metric shank router bits can be used. The extension body has been precision machined from a single piece of high-quality steel which has been computer balanced to minimize vibrations to ensure the extension and therefore router bit will run perfectly true.

The precision machined body alongside the ER20 collets are the ideal combination to give extra height to your router bits while maintaining complete accuracy. The extension has a 1/2" shank and an overall length of 90mm. ©
Brand

Rutlands®

Product Code

R5093

Shank

1/2"

1/4" Collet

ER20 6.5mm – 5.5mm

1/2" Collet

ER20 13mm – 12mm

Extension

50mm

Overall Height

90mm

Collet Nut Diameter

28mm
UK Shipping
UK orders placed before 4pm will be delivered the next working day with shipping costing £6. Visit our Shipping page.
Outside of UK Shipping
We ship worldwide to over 200 countries. The total amount you pay includes all applicable customs duties & taxes. We guarantee no additional charges on delivery. Shipping cost and delivery time shown at checkout. Visit our Shipping page.
Click & Collect
Simply select Pick up on the checkout, and we will email you when you order is ready for collection at our distribution centre in Bakewell. Visit our Click & Collect page.
Payment
We accept all major credit cards and mobile payment methods. Visit our Payment page.
Returns
We will happily accept returns within 30 days. For more information about returns, visit our Returns page.