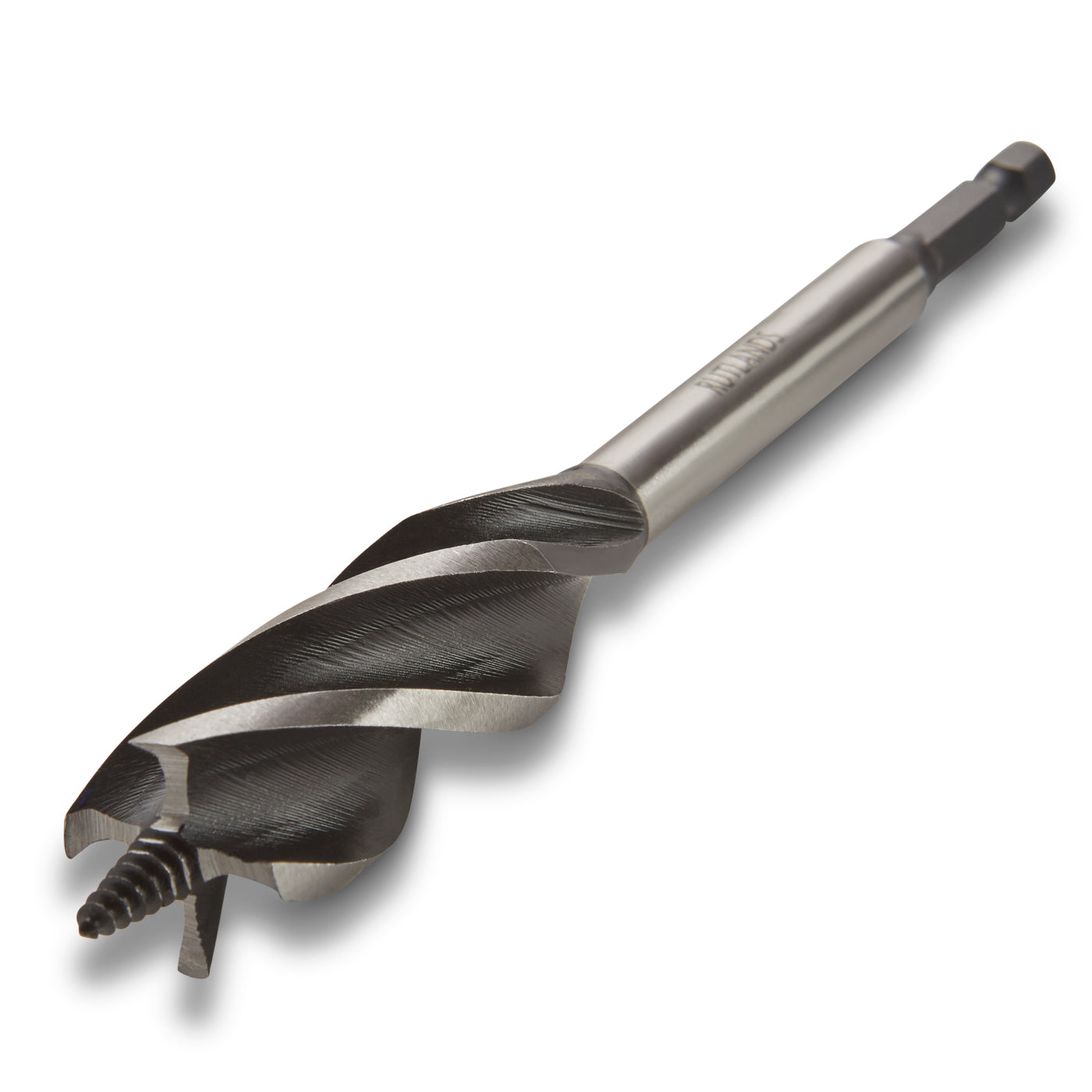 <

Four Flute Auger Bits
Four Flute Auger Bit
Regular price
Sale price
From $9.99
Unit price
per
In Stock
ready for shipping
Shipping details shown at checkout
Engineered with precision cutting geometry for precise, deep drilling in hard, soft and composite woods. The four flute design is superior compared to single fluted auger bits when fast cutting and immediate chip removal is required.
12mm

$9.99

13mm

$11.00

14mm

$11.00

16mm

$12.00

18mm

$12.00

20mm

$14.00
Shop with confidence with our 3 Year Warranty
Rated excellent by Trustpilot based on 27,692 reviews
Over 2.5 million Rutlands® premium woodworking tools sold worldwide
Four Flute Auger Bit
Regular price
Sale price
From $9.99
Unit price
per
3 Year Warranty
Extremely hard wearing, retaining hardness over prolonged use
Precise cutting geometry ensures clean and accurate entry and exit holes
Threaded centre point pulls the bit through the wood, reducing the pressure required
Four flute design provides faster cutting speeds and superior chip removal
Hexagonal shank sits securely in the chuck, and will not slip under load
These four flute auger bits are ideal for quickly and accurately drilling deep holes in thicker stock. The four flute design is superior compared to single fluted auger bits when fast cutting and immediate chip removal is required. They can be used in either drill presses or electric hand drills and are designed to be used on softwoods, hardwoods and composite materials. The precise cutting geometry, the four cutting spurs, the four chisel like main cutters and the four flutes ensure accurate, clean holes while minimizing tearout on entry and exit of the hole. The cutting spurs sit fractionally above the main cutters to ensure the bit enters the wood cleanly without tearing the wood fibres, the main cutter then follows to remove the material quickly to avoid the build-up of heat. The bits feature a threaded centre point which pulls the bit through the wood meaning minimal force is needed for the bit to work at full capacity. The four deep flutes allow rapid chip removal to prevent clogging when drilling deeper holes.

The auger bits are made from high carbon steel which has been hardened to ensure a long service life and give the bits impressive cutting properties when compared to traditional steel auger bits. The bits have been fully ground to give precise concentricity to ensure a highly accurate hole. The quick change ¼" hex shank is compatible with all ¼" hex shank quick change systems, it will ensure a secure hold that will not slip inside the chuck during use. These four flute auger bits are normally used at low speeds between 700 and 2000rpm to prevent the wood from scorching. The speed depends on size, with the larger diameter bits being used at lower speeds.

These bits are certified to ensure the dimensional accuracy of the hole and are available in 12mm to 20mm diameters in 2mm increments. The overall length of the bits is 165mm with a flute length of 75mm. ©
UK Shipping
UK orders placed before 4pm will be delivered the next working day with shipping costing £7. Visit our Shipping page.
Outside of UK Shipping
We ship worldwide to over 200 countries. The total amount you pay includes all applicable customs duties & taxes. We guarantee no additional charges on delivery. Shipping cost and delivery time shown at checkout. Visit our Shipping page.
Click & Collect
Simply select Pick up on the checkout, and we will email you when you order is ready for collection at our distribution centre in Bakewell. Visit our Click & Collect page.
Payment
We accept all major credit cards and mobile payment methods. Visit our Payment page.
Returns
We will happily accept returns within 30 days. For more information about returns, visit our Returns page.