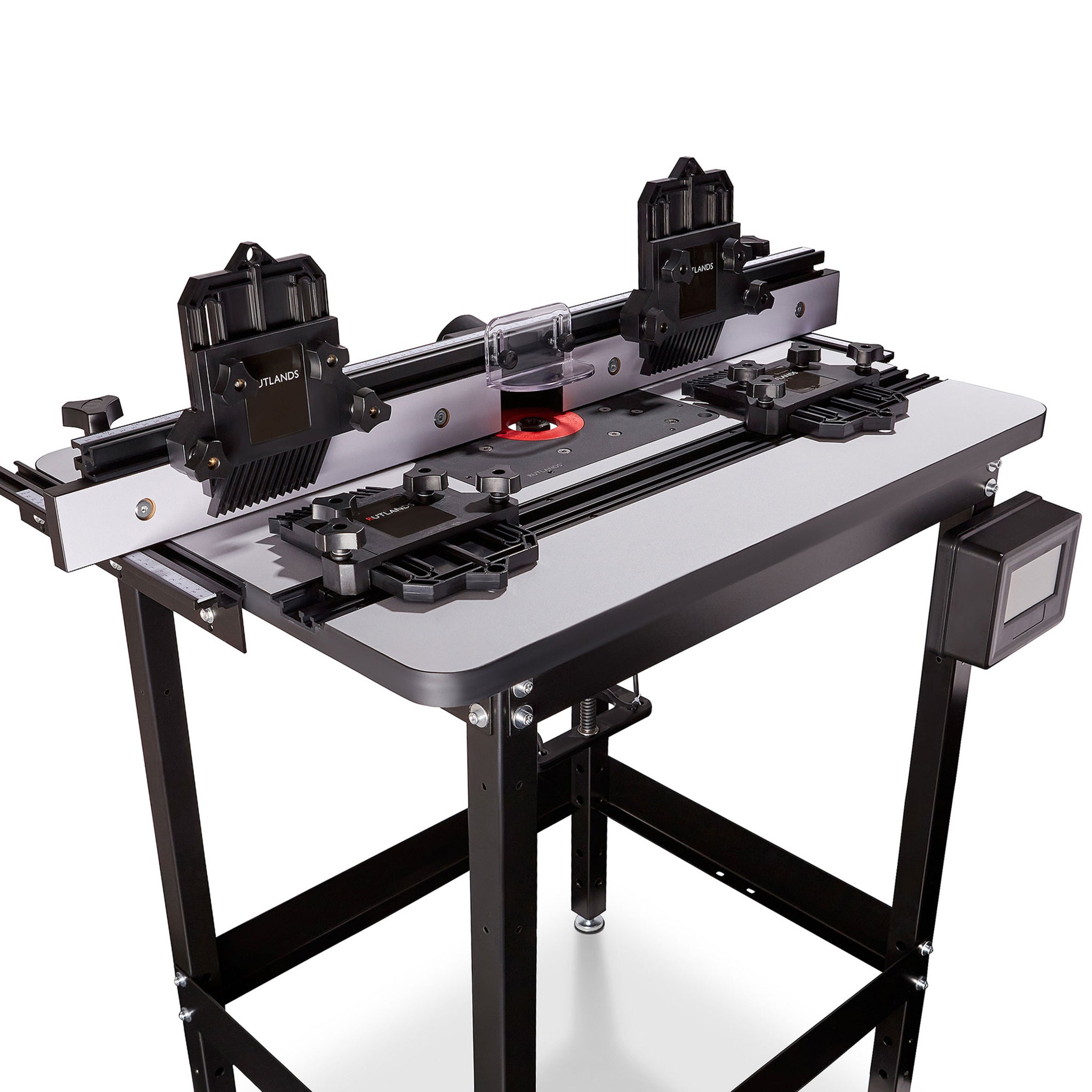 <

Router Tables
Router Table - R20 Electronic Lift and Motor
Regular price
Sale price
$1,600.00
Unit price
per
In Stock
ready for shipping
Shipping details shown at checkout
The phenolic laminated table top provides a smooth, low friction work surface, whilst two adjustable sub-fences ensure maximum support and an effortlessly smooth surface on which to guide the workpiece. The touch screen control panel provides super-fast set up and pin point accuracy of the router bit height, to a resolution of 0.1mm.
Shop with confidence with our 3 Year Warranty
Rated excellent by Trustpilot based on 27,656 reviews
Over 2.5 million Rutlands® premium woodworking tools sold worldwide
Router Table - R20 Electronic Lift and Motor
Regular price
Sale price
$1,600.00
Unit price
per
3 Year Warranty
Digital control box sets the router bit height to an accuracy of 0.1mm
Large 800 x 600mm work surface to route all sizes of workpiece with ease
Frictionless phenolic laminate surface for complete control when guiding your workpiece
19mm and 6.3mm T tracks for the mounting of mitre gauges, feather boards and more
Powerful 2400W motor tackles the most demanding hardwoods and end grain with ease
This premium performance Rutlands® router table features the R5008 router table stand, R5007 router table top, R5009 router table fence, R5063 electronic router lift, R5018 router motor and two R5015 double feather boards.

Router Table Stand
The legs and braces on this router table stand are made from 38mm wide x 2mm thick box-section steel for guaranteed strength and rigidity. The stand has been specifically designed to ensure that the legs and braces fit perfectly square to each other, via a series of pre-welded locking nuts and stainless-steel fixings. The feet have a large 45mm diameter footprint for optimum stability and have fine height adjustment when levelling on uneven workshop floors. Each foot is fitted with a heavy-duty rubber pad to offer excellent vibration dampening.

Router Table Top
This table top is laminated on both faces with a low friction, premium-grade, phenolic which is highly wear resistant and allows the workpiece to glide smoothly through the router bit. The phenolic laminate is sandwiched around a 27mm solid moisture-resistant composite core which prevents the absorption of atmospheric moisture, eliminating the risk of warping or distortion of the table surface when working in cold or damp workshops. Set into the top is an extruded aluminium, double T track which includes a standard 19mm track for use with mitre gauges and feather boards, and a 6.3mm T slot for use with stops and homemade jigs.

Router Table Fence
This router table fence is precision CNC machined from aircraft-grade aluminium with a black anodized finish. On the top face of the fence is a metric scale and an 8.3mm T Track for use with Rutlands® flip stops and on the front face there is another 8.3mm T Track for mounting Rutlands® feather boards and the height adjustable router bit guard. The two sub-fences are made from a solid composite with a low friction, phenolic laminate surface to ensure smooth movement of the workpiece. The fences can be adjusted, tool free, to accommodate any router bit from 10mm to 115mm in diameter and the outfeed sub-fence can be off-set to allow for edge planing. The two fence support brackets are mounted to each side of router table top, allowing the fence to be moved back and forth.

Electronic Router Lift - R20
This electronic router lift significantly reduces set up time and ensures pin point accuracy when table routing. The rise and fall is operated by the digital control box which features an LED display. You simply press the start button on the control box and then select either metric or imperial graduations. Metric settings are displayed in 0.1mm increments and imperial settings in 0.001" increments. There are two operating modes, the first method is by pressing and holding the up or down button on the key pad until you reach your desired height. The second method is to raise or lower the lift by a specific increment by entering into the keypad the amount of height adjustment required. You can re-set to zero at any height. The lift will automatically lock in position after setting the cutting height, eliminating the risk of unwanted travel during routing. The carriage and threaded arms of the lift are CNC machined and feature sealed-for-life bearings to allow for smooth movement of the router motor.

Router Lift Motor
This powerful, 2400W variable speed motor features a torque control system that prevents the motor from slowing under load, ensuring that the rotational speed remains constant, no matter what diameter of router bit you are using or how hard the wood, resulting in a superior workpiece finish. A variable speed control dial, conveniently positioned on the bottom of the motor for easy-reach, allows you to select speeds from 10,000 to 22,000 rpm. With soft start technology, the router motor gradually increases the speed from zero to the desired level for a safer, more enjoyable routing experience. An air cool system ensures a constant flow of fresh air to prevent the risk of the motor overheating, when installed in the Rutlands® dust box or in a close-sided router table. The dust protection system prevents dust from causing damage to the motor to ensure a long trouble-free life and the precision machined spindle bearings are guaranteed for ultra smooth, vibration free rotation. The two ER collets 1/4" and 1/2" are precision machined to ensure perfect balance and concentricity.

Double Feather Board
These feather boards are an essential tool and provide even, consistent pressure on your workpiece up against the fence. They allow you to apply pressure closer to the router bit, at the most critical point, without risking injury to your fingers. ©
Brand

Rutlands®

Product Code

R5076
Router Table Top

Top Material

High pressure phenolic laminate

Top Weight

11kg

Dimensions

800mm x 600mm x 27mm

Insert Plate Opening

298mm x 235mm

T Track Widths

19mm and 6.3mm

T Track Material

Extruded aluminium
Router Table Stand

Material

Box section steel

Stand Weight

14kg

Dimensions

870mm x 660mm x 560mm
Router Table Fence

Fence Material

Extruded aluminium

Fence Weight

8kg

Sub-Fence Material

High pressure phenolic laminate

Overall Height

90mm

Sub-Fence Height

65mm

Length

Adjustable from 910mm to 1150mm

Fence Opening

Adjustable from 15mm to 115mm

T Track Material

Extruded aluminium

T Track Widths

19mm and 8.3mm

Dust Port Diameter

63mm
Double Feather Board

Material

High impact moulded plastic

Feather Board Width

130mm

Feather Board Length

Up to 210mm

Feather Board Face Height

13mm

Stacked Face Height

37mm

Track Hardware

Hex bolts for 6.35mm or 8.3mm T track and slot bar for 19mm T track
Router Motor

Voltage

230V

Power

2400W

Dimensions

205mm x 106mm

Weight

3.87kg

Variable Speed Range

10,000 - 22,000 rpm

Collet Diameter

1/2" and 1/4"

Motor Diameter

106mm

Cylindrical Length

130mm

Power Cable Length

2m
Electronic Router Lift R20

Insert Plate Size

298mm x 235mm

Insert Plate Material

Aluminium

Insert Plate Thickness

10mm

Overall Lift Height

330mm

Insert Plate Aperture

90mm

Insert Rings

50mm, 35mm

Digital Increments

0.1mm or 0.001"

Digital Display

Metric and Imperial
UK Shipping
UK orders placed before 4pm will be delivered the next working day with shipping costing £7. Visit our Shipping page.
Outside of UK Shipping
We ship worldwide to over 200 countries. The total amount you pay includes all applicable customs duties & taxes. We guarantee no additional charges on delivery. Shipping cost and delivery time shown at checkout. Visit our Shipping page.
Click & Collect
Simply select Pick up on the checkout, and we will email you when you order is ready for collection at our distribution centre in Bakewell. Visit our Click & Collect page.
Payment
We accept all major credit cards and mobile payment methods. Visit our Payment page.
Returns
We will happily accept returns within 30 days. For more information about returns, visit our Returns page.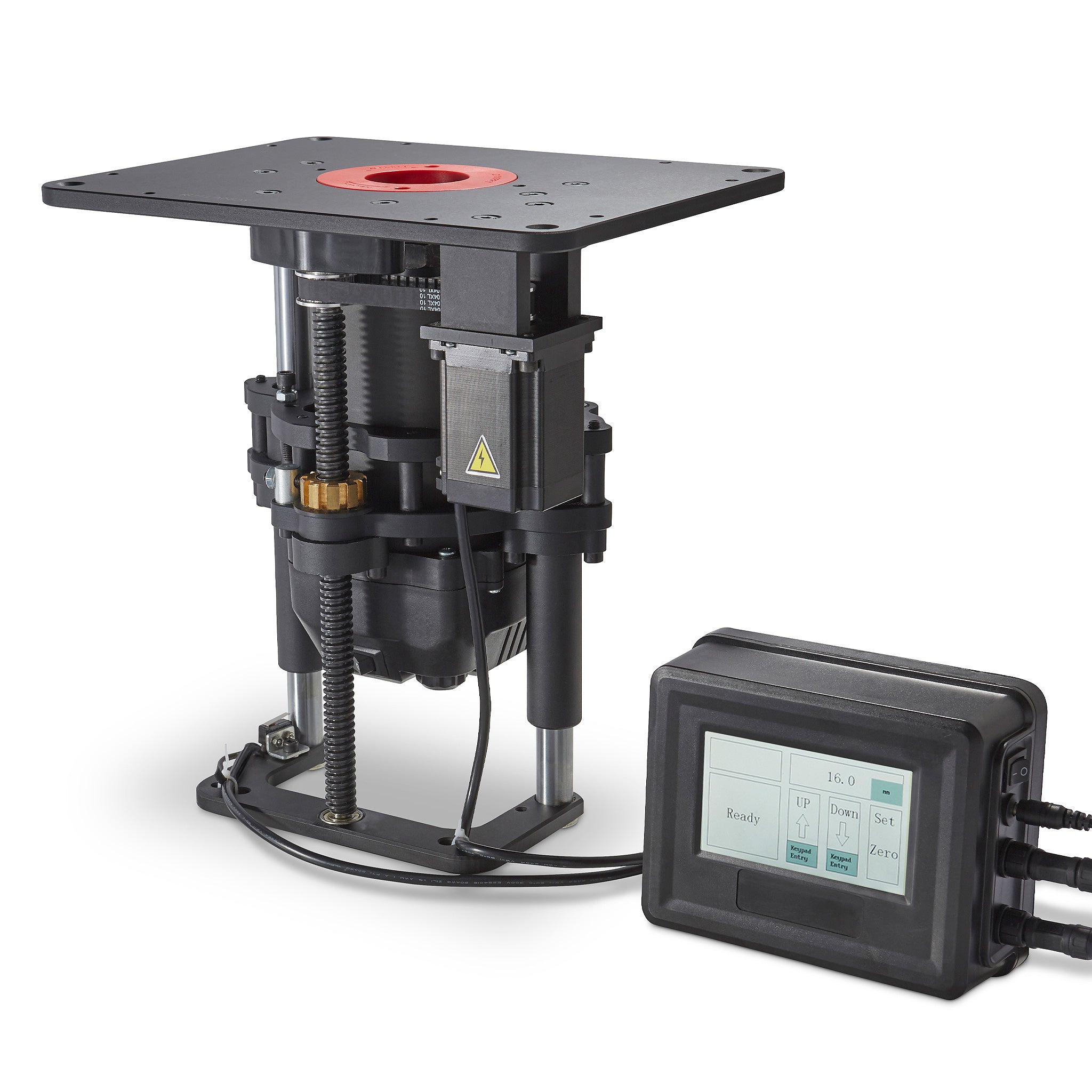 Revolutionary routing
Touch screen control panel provides super-fast set up and pin point accuracy of the router bit height, to a resolution of 0.1mm.