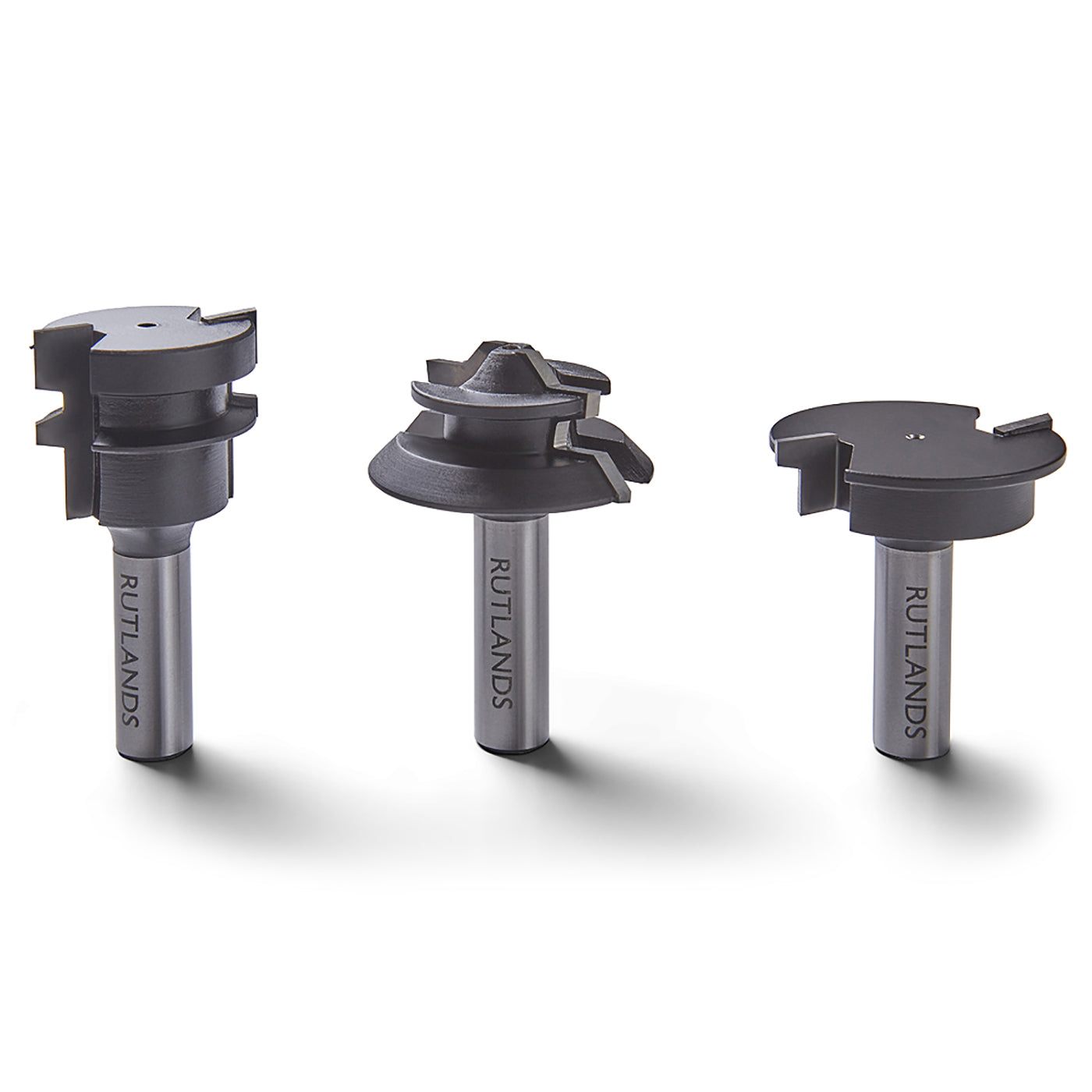 <

TCT Router Bit Sets
Buy 2 Sets Get 1 Set Free - Add 3 to bag
Router Bit Set - Joint Making
Regular price
Sale price
$120.00
Unit price
per
In Stock
ready for shipping
Shipping details shown at checkout
This set contains the three most popular joint making router bits; lock mitre, drawer lock and reversible glue joint, designed to make joinery quicker, easier and better looking, ideal for boxes, cabinets and furniture. Each bit features diamond ground, micro-grain tungsten carbide tipped blades for long lasting hardness and superior edge retention.
Shop with confidence with our 3 Year Warranty
Rated excellent by Trustpilot based on 26,998 reviews
Over 2.5 million Rutlands® premium woodworking tools sold worldwide
Router Bit Set - Joint Making
Regular price
Sale price
$120.00
Unit price
per
3 Year Warranty
The most popular joint making router bits; lock mitre, reversible glue joint and drawer lock
Micro-grain tungsten carbide ensures long lasting hardness and superior edge retention
Perfectly balanced, vibration free bodies for a smoother cut
Shear angle blades slice the wood for a feather free finish
Anti kick back design for maximum operator safety
TCT Router Bits
Each router bit features diamond ground, micro-grain tungsten carbide tipped blades. This tighter micro-grain structure means the blades offer long lasting hardness and superior edge retention. The body of each bit has been turned and then milled with uncompromising precision from a single piece of 4140 high tensile steel to give perfect balance for reduced vibration and therefore smoother cuts. 4140 steel has been chosen because of its toughness, high fatigue strength, and abrasion and impact resistance. The tungsten carbide tips are then brazed onto the bodies using induction to create an extremely strong joint that safely holds under the high stresses that occur when routing. The router bits are suitable for use on softwoods, hardwoods, veneers, laminates and composite materials.

Lock Mitre Bit
Lock mitre bits create an interlocking profile which locks the joint against movement when clamped and gives a large surface area for gluing for guaranteed strength. The bits can be used to create perfect 90° corner joints as well as producing the joint needed for edge jointing boards together. To create a 90° joint one workpiece should be routed horizontally on the table while the other is routed vertically against the fence. These lock mitre bits are most commonly used for constructing boxes, drawers, and cabinet parts in addition to edge jointing boards.

Reversible Glue Joint Bit
Reversible glue joint bits are used to produce fast, accurate glue joints with increased surface area for glue application, resulting in an incredibly strong joint. These bits create joints in perfect flush alignment, reducing the amount of time spent sanding and planing during the finishing process. Using uniformly thick boards, centre this bit with the edge of the boards and then cut one workpiece face down and the other face up to produce the joint. These bits are ideal for routing wide dimension panels, tabletops and doors. Maximum stock thickness for this bit is 32mm. For router table use only.

Drawer Lock Bit
Drawer lock bits are chosen for their speed and simplicity when joining drawer fronts to sides. These bits create an incredibly strong joint with increased surface area for glue application. The wedge-shaped tenons produced will self-align the workpieces for strong, perfectly fitting and attractive joints. To create a drawer lock joint, cut the drawer front flat on the router table with the outside facing upwards. The drawer side is then cut vertically, with the inside facing the fence. Minimum wood thickness for these bits is 12mm. For router table use only. Shanks are 1/2".

Superior Finish and Performance
The shearing angle of the cutting edges ensure they remain in constant contact with the workpiece to allow a smoother, slicing cut which eliminates tear-out and gives a mirror finish. The bits feature right hook angles which further enhances the cut due to the fast removal of chips. These bits feature an anti-kickback design which limits the feed rate of the material being cut to decrease the likelihood of a kickback, meaning each bit conforms to strict German DIN standards to ensure maximum operator safety. ©
Brand

Rutlands®

Product Code

R5913

Lock Mitre Bit

D=51mm H=22mm A=45° L=68mm n.max=18,000 S=1/2"

Reversible Glue Joint Bit

D=38mm H=32mm A=30° L=73mm n.max=18,000 S=1/2"

Drawer Lock Bit

D=50.8mm H=12.7mm A=15° L=54mm n.max=18,000 S=1/2"
UK Shipping
UK orders placed before 4pm will be delivered the next working day with shipping costing £6. Visit our Shipping page.
Outside of UK Shipping
We ship worldwide to over 200 countries. The total amount you pay includes all applicable customs duties & taxes. We guarantee no additional charges on delivery. Shipping cost and delivery time shown at checkout. Visit our Shipping page.
Click & Collect
Simply select Pick up on the checkout, and we will email you when you order is ready for collection at our distribution centre in Bakewell. Visit our Click & Collect page.
Payment
We accept all major credit cards and mobile payment methods. Visit our Payment page.
Returns
We will happily accept returns within 30 days. For more information about returns, visit our Returns page.