<

Woodturning Lathes
R2 Lathe Variable Speed, Chuck and Tools - 305mm x 610mm
Regular price
Sale price
$1,100.00
Unit price
per
In Stock
ready for shipping
Shipping details shown at checkout
With class-leading spindle concentricity, this lathe features exceptionally low levels of vibration and noise, even at maximum speed and under full load. Powered by a reversible, variable speed motor you can turn bowls up to 305mm and spindles up to 610mm. Precision engineered and beautifully balanced, the chuck offers superior performance combined with rock-solid holding power and excellent load bearing capability. Each cryogenically hardened turning tool holds an edge up to 5 times longer than conventionally hardened high-speed steel.
Shop with confidence with our 3 Year Warranty
Rated excellent by Trustpilot based on 27,656 reviews
Over 2.5 million Rutlands® premium woodworking tools sold worldwide
R2 Lathe Variable Speed, Chuck and Tools - 305mm x 610mm
Regular price
Sale price
$1,100.00
Unit price
per
3 Year Warranty
Longer turning capacity, for spindles up to 610mm and bowls up to 305mm
Powered by an ultra-quiet 750w high torque, DC motor
Electronic variable speed control to suit small, medium and large turnings
Class leading spindle concentricity, running on extra wide, sealed for life roller bearings
Precision 75 chuck kit and cryogenic HSS tools to get straight into turning
R2 Lathe Variable Speed - 305mm x 610mm
This is an exceptional woodturning lathe. Compared to many other bench top lathes it has greater work holding capacity allowing for 305mm bowl turning and 610mm spindle turning and has the advantage that you can extend the bed at a later stage to increase spindle turning to 1300mm. It is powered by a high torque, DC motor which is extremely quiet in use, even at maximum speed and under full load.

A non-slip poly V belt efficiently transmits power from the motor whilst the motor controller automatically increases the level of torque to maintain the speed, as load on the workpiece is increased. The two step pulley, in conjunction with the variable speed control results in two speed ranges of 250 to 1300rpm and 700 to 3450rpm, allowing you to fine tune the speed to suit small, medium and large turnings. The digital read out is ideally positioned on the tailstock to offer perfect visibility. The level of vibration is remarkable low, due to the substantial grey iron castings which have the mass needed to dampen and absorb vibration. The cast iron headstock is CNC machined for the precise alignment of the drive spindle and the extra wide roller bearings, ensuring class leading concentricity.

The drive spindle has a 1" x 8tpi thread with a No 2 morse taper to allow for the fitting industry standard chucks and attachments. The tailstock has No 2 morse taper which is hollowed out to accept drill bits when turning standard and bed side lamps. The tool rest is held firmly in the non-slip banjo and will not wander when roughing out or turning large bowls and platters. The bed of the lathe is finely ground for smooth tool rest positioning. All of the adjustment handles are ergonomic and can be locked off to prevent obstruction with the turning tool.

The lathe comes complete with a revolving centre, four prong centre, face plate, knock out rod and spindle locking wrenches . This lathe is ideal for bowl and platter turning, goblet, vase and egg cup turning, pen turning and all between centres work.

Precision 75 Woodturning Chuck
The new Precision 75 Woodturning Chuck is engineered to ensure that the workpiece sits as close as possible to the headstock, therefore reducing load and minimizing wear on the main spindle bearing. This chuck is extremely strong and durable, as it is machined from a special grade of medium-tensile steel, which is normally used for the manufacture of high performance turbo impellors, pistons and gears. It is the latest advancement in work holding systems for discerning woodturners. Precision engineered and beautifully balanced, it offers superior performance combined with rock-solid holding power and excellent load bearing capability.

The chuck kit contains the Precision 75 chuck body, 50mm dovetail jaws, 65mm faceplate ring, 35mm pin jaws and screw chuck. This wide array of jaws allows for all popular turning projects including; spindles, bowls, goblets, candlesticks, pepper mills, pens and pencils up to 20kg and more. The chuck and jaws are presented in a box set, which features a dedicated foam cut out to aid protection when not in use.

Cryogenic M2 HSS Woodturning Tools - Set of 6
This premium set of Cryogenic M2 HSS turning tools features six full-size tools allowing for the professional turning of both bowl and spindle projects including candlesticks, goblets, standard lamps, pepper pots, bowls, platters and pens. Beautifully presented in a wooden case, this set comprises of a 1" roughing gouge for taking the corners off square stock, to make it round, 3/4" oval skew chisel for creating a smooth cylindrical finish, 3/8" spindle gouge for adding detail, such as coves and beads, 1/8" diamond parting tool for cutting deep grooves or releasing finished work from a waste wood base, 1/2" bowl gouge for the hollowing out of goblets and bowls and a 3/4" square nose scraper to give perfectly flat bottoms to the insides of bowls.

These turning tools are made from M2 high-speed steel which has been cryogenically hardened, to ensure an extremely long service life. Cryogenic hardening is a technical process, where the steel is cooled down to -185°C after hardening, resulting in an edge that will last up to 5 times longer than conventionally hardened high-speed steel.

The full-size handles are ergonomically designed to allow for optimum grip and comfort and are made from a slow growing beech that has been selected for its straight grain, to ensure maximum strength. The shanks of the high-speed steel blades are buried deep into the beech handles and secured by a solid stainless steel ferrule. These are excellent full-size woodturning tools. ©
Brand

Rutlands®

Product Code

R2118
R2 Lathe

Voltage

230V

Power

750W

Dimensions

1078mm x 255mm x 401mm

Weight

39kg

Variable Speed Range

250 to 1,300rpm and 700 to 3,450rpm

Diameter Over Bed

305mm

Distance Between Centres

610mm

Distance Between Centres with Option Bed Extension

1300mm

Spindle Thread

1" x 8tpi

Taper Headstock

No. 2 MT

Taper Tailstock

No. 2 MT

Tailstock Barrel Travel

60mm

Tool Rest Stem Diameter

16mm

Tool Rest Length

150mm
Precision 75 Woodturning Chuck Kit

Thread

1" x 8tpi

Chuck Body Diameter

70mm

Dovetail Jaws Compression Grip

40mm - 28mm

Dovetail Jaws Expansion Grip

38mm - 50mm

Pin Jaws Compression Grip

20mm - 8mm

Pin Jaws Expansion Grip

23mm - 35mm

Faceplate Ring

65mm

Woodscrew Chuck

30mm
Cryogenic M2 HSS Turning Tools

Handle Lengths

320mm

Blade Lengths

130mm to 220mm

Overall Lengths

450 to 540mm

Steel

M2 High-Speed Steel

Handle

Beech

Rockwell Hardness

HRC63-77

Roughing Gouge Blade Width

1"

Roughing Gough Flute Width

3/4"

Bowl Gouge Blade Width

1/2"

Bowl Gouge Flute Width

3/8"

Spindle Gouge Blade Width

3/8"

Spindle Gouge Flute Width

1/4"
UK Shipping
UK orders placed before 4pm will be delivered the next working day with shipping costing £7. Visit our Shipping page.
Outside of UK Shipping
We ship worldwide to over 200 countries. The total amount you pay includes all applicable customs duties & taxes. We guarantee no additional charges on delivery. Shipping cost and delivery time shown at checkout. Visit our Shipping page.
Click & Collect
Simply select Pick up on the checkout, and we will email you when you order is ready for collection at our distribution centre in Bakewell. Visit our Click & Collect page.
Payment
We accept all major credit cards and mobile payment methods. Visit our Payment page.
Returns
We will happily accept returns within 30 days. For more information about returns, visit our Returns page.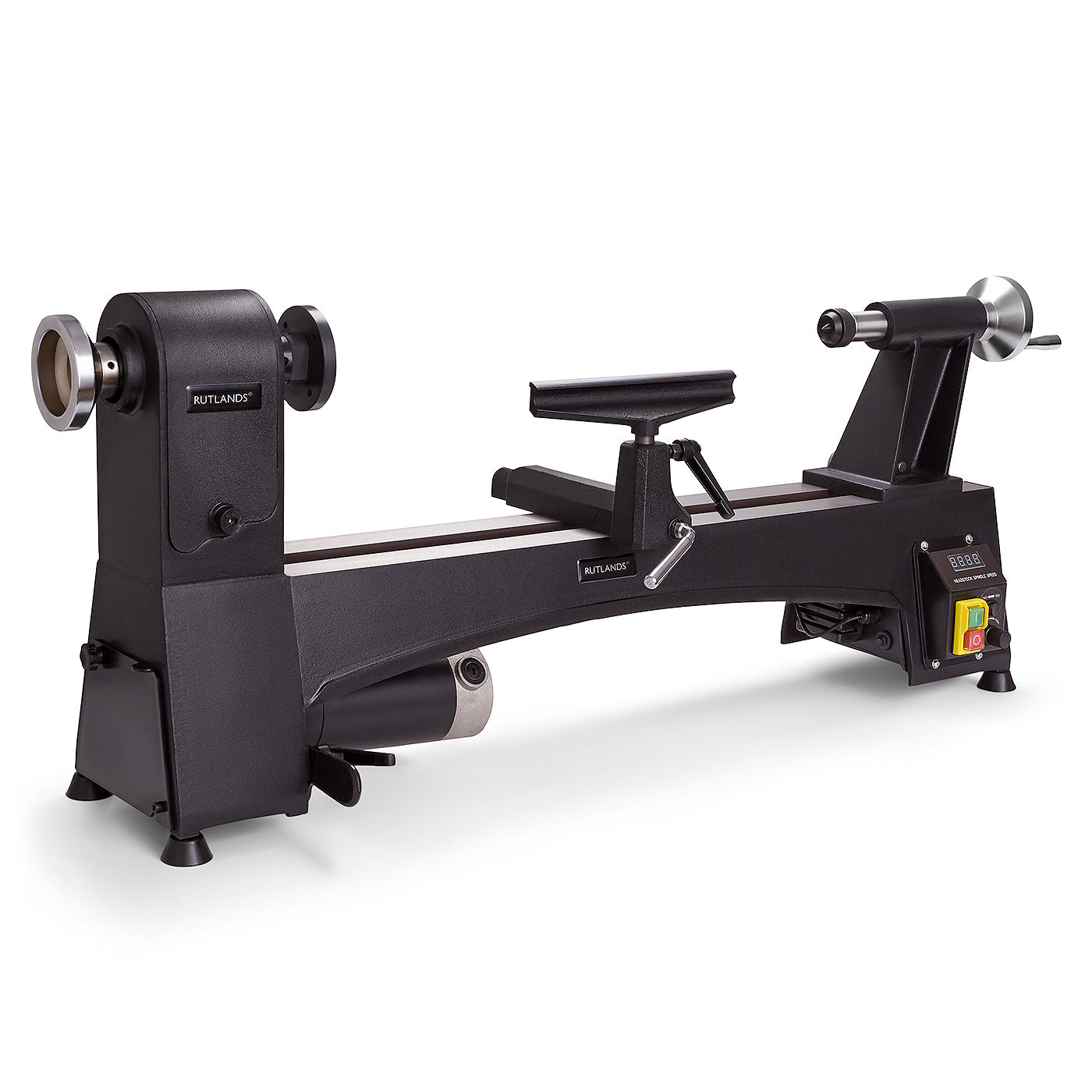 Class leading concentricity
The precisely aligned drive spindle runs on extra wide, sealed for life roller bearings.